Winter Photography: Capture Stunning Shots with The Heat Company Photography Gloves:
Imagine you're out in the snowy wilderness, camera in hand, ready to capture the perfect shot. The winter landscape stretches out before you, but there's one obstacle standing between you and your photographic vision—the biting cold. 
As a photographer, battling freezing temperatures while trying to capture your artistic vision can be a real challenge. However, with our specially designed photography gloves for winter conditions, you can overcome the cold and immerse yourself in the world of winter photography without sacrificing comfort or dexterity.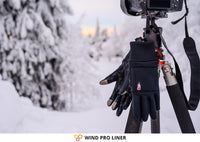 Winter Conditions Present Unique Challenges for Photographers
The cold temperatures can make it difficult to handle your camera controls, resulting in stiff fingers and reduced mobility. Precise adjustments and focusing become a real struggle when your hands are numb and unresponsive. That's where The Heat Company Photography Gloves come in to revolutionize your winter photography experience.
Developed with the needs of photographers in mind, our gloves are the perfect blend of warmth, functionality, and dexterity. Drawing from our expertise in creating extreme cold work gloves, we've tailored a specialized solution specifically for photographers facing winter conditions.
Unmatched Warmth and Protection
When the temperature drops, you need gloves that can withstand the elements and keep your hands warm. The Heat Company Photography Gloves feature our innovative Heat Layer System, consisting of three layers that work together to provide unparalleled warmth and protection.
The first layer is the LINER, which offers a lightweight and moisture-wicking base. It ensures your hands stay dry and comfortable during long photography sessions.
The LINER layer is designed to provide a balance of warmth and dexterity, allowing you to make precise adjustments to your camera settings without hindrance.
• The second layer is the SHELL, where the real magic happens. Constructed with advanced insulation materials, the SHELL layer traps and retains heat, keeping your hands warm even in the harshest winter conditions. Despite the exceptional insulation, the gloves maintain excellent dexterity, allowing you to operate your camera with ease and precision.


• To provide an extra shield against the elements, we offer the optional POLAR HOOD layer. This windproof and waterproof hood can be easily attached to the SHELL layer, providing added protection in extreme weather conditions. It's particularly useful for photographers working in harsh environments where wind and moisture can pose a challenge.
Designed for Direct Contact with Your Camera
We understand that as a photographer, having direct contact with your camera is crucial for capturing the perfect shot. That's why we offer the HEAT 2 models, which are designed for those who prefer fingerless gloves when taking pictures. 
With the HEAT 2 gloves, you can simply fold back the mitten cap over your fingers when you need to handle your camera. These gloves are perfect for in-between seasons and slightly sub-zero temperatures. For added warmth and protection, you can combine the HEAT 2 gloves with the MERINO LINER and the POLAR HOOD.
Clever Details That Enhance Your Photography Journey
• Hidden Magnets

- Hidden magnets allow the mitten flap and thumb to be effortlessly folded back and securely fastened, ensuring unhindered handling of your camera.


• Touch-Screen Sensitive Materials

- The Heat Company Photography Gloves are made with touch-screen sensitive materials, eliminating the need to remove your gloves and risk exposing your hands to the cold.


• Extra Pocket on the Back of the Hand

 

- An additional pocket on the back of the hand, provides a practical storage solution for warmers or small photo equipment.


• Useful Catch Loops and Carabiners

 

- Connect all layers of the gloves together using the practical catch loops and carabiners.


• Extra-Long Wrist Cuff

 

- Combat thermal bridges with the extra-long wrist cuff. Experience enhanced insulation and protection against cold air infiltration, allowing you to focus on your performance.


• Two Drawstrings for Optimal Fit

 

- Adjust the gloves to your preference, ensuring comfort, and providing an extra layer of protection against wetness and snow.


• Practical Pulling Aid- Loops on the side of the mitten or between the fingers serve as practical pulling aids, making it easier to remove the gloves when necessary.
• Useful Catch Loops and Carabiners

- Our gloves feature useful catch loops and carabiners, allowing you to connect all the layers together, ensuring no part gets lost during your photography sessions.


• Extra-Long Wrist Cuff

 

- Our gloves come with an extra-long wrist cuff, providing added protection against thermal bridges and preventing cold air from creeping in.


• Two Drawstrings for Optimal Fit and Protection

- The inclusion of two drawstrings in our gloves ensures an optimal fit, offering a snug and secure feel. Additionally, they provide protection against wetness and snow.


• Practical Pulling Aid- Our gloves feature practical pulling aids in the form of loops on the side of the mitten or between the fingers, making it easier to remove them when needed.


• Intelligent Material Use- Our gloves are meticulously crafted with intelligent material use, providing optimal characteristics that allow you to fully concentrate on your photography.


• Silicone Print on the Palm-Our gloves feature a silicone print on the palm, ensuring a tight grip on your lens and giving you the confidence to handle your gear with ease.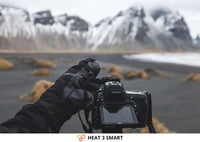 Get inspired by our gloves
Feel the warmth of our gloves and get inspired by winter photography in nature. Unleash your potential, overcome the cold and create unforgettable photos of snowy landscapes. Choose winter outdoor photography gloves from THE HEAT COMPANY and you can fully focus on taking pictures.