Extreme Cold Work Gloves Unparalleled Protection, The Best Extreme Cold Work Gloves for Professionals
Are you tired of battling freezing temperatures and stiff fingers while working in extreme cold? We understand the challenges you face as a professional in Arctic regions, whether you're an Arctic researcher, an ice fisherman, or any other brave soul taking on the frigid elements. That's why we've developed the ultimate solution for your cold hands - extreme cold work gloves.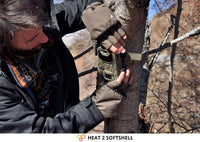 Cold Hands and Reduced Finger Mobility - a common issue in harsh climates
Picture this, you're out in the freezing wilderness, trying to accomplish your tasks, but your hands are numb, making it almost impossible to handle tools or equipment effectively. It's a well-known problem for outdoor enthusiasts, but it doesn't have to be your reality anymore. 
With our extreme cold work gloves, you can say goodbye to the discomfort of cold hands and hello to warmth and dexterity.
Experience from Industry Experts
Our gloves have been rigorously tested and trusted by professionals from various industries that face extreme cold conditions. We've gathered insights from ski instructors who brave the slopes all day long, mountaineers who conquer icy peaks, and even cold storage workers who endure sub-zero temperatures. Their expertise has helped us create gloves that meet the unique demands of their professions while keeping their hands toasty warm.
From Gloves for Elite Operatives to Everyday Extreme Cold Work Gloves
Our gloves have been battle-tested and proven to withstand the coldest environments. Professionals from all walks of life, from Arctic expedition guides to cold climate construction workers, rely on our gloves to provide unparalleled protection against extreme cold. 
We've even earned the trust of ice sculptors who need precise control over their tools and ski patrollers who face freezing winds day in and day out.
Unparalleled Warmth and Functionality
Introducing our groundbreaking HEAT LAYER SYSTEM, a game-changer in extreme cold work gloves. This system is a three-layered marvel consisting of the LINER, SHELL, and HOOD layers, each serving a unique purpose to keep your hands warm and agile, making them the right winter work gloves for extreme cold.
1st Layer - LINER
The LINER layer acts as a cozy and moisture-wicking base. Its lightweight and breathable design make it ideal for professionals like forestry workers and cold chain logistics personnel who require comfort and flexibility while staying warm in extreme cold.
2nd Layer - SHELL
The SHELL layer is where the real magic happens. Engineered with advanced insulation materials, it traps and retains heat, providing unbeatable warmth in even the most bone-chilling conditions. Ski instructors and dog sledding guides appreciate the superior insulation and durability of this layer, allowing them to perform their tasks without the distraction of cold hands.
If you need an even warmer version of the SHELL, we also have it available in a full leather version, SHELL FULL LEATHER.
3rd Layer - HOOD
When it comes to facing extreme cold head-on, the POLAR HOOD layer has got your back, or rather, your hands. This layer acts as a windproof and waterproof shield, ensuring your hands remain warm and dry even in the harshest environments.

Ice climbers and winter wildlife biologists rely on the HOOD layer to provide unparalleled protection when tackling extreme cold challenges.
Would You Like Direct Tactile Connection with Your Tools and Equipment?
We know that having direct contact with your tools and equipment is essential for many professionals. That's why we've paid meticulous attention to detail when designing our gloves to be the best extreme cold weather gloves with dexterity. From reinforced fingertips for added durability to touchscreen compatibility for easy device handling, our gloves ensure optimal grip and dexterity. 
Whether you're an ice rink technician or a freight train crew member in northern regions, these clever details will enhance your performance and comfort in extremely cold conditions.
Clever Details That We Use to Design Our Gloves
At THE HEAT COMPANY, we pay meticulous attention to the details that matter.
• Our gloves feature adjustable wrist straps, ensuring a secure and customized fit for everyone, from snow grooming operators to glacier tour guides.
• We incorporate reinforced stitching and durable materials, guaranteeing long-lasting performance in even the harshest conditions for ice rink technicians and freight train crews in northern regions.
• Additionally, our gloves are designed with moisture management systems to keep your hands dry and comfortable throughout your workday, a crucial feature appreciated by winter wildlife biologists and Arctic expedition cruise staff.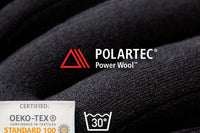 Combining Innovation! Some Individuals Prefer the Versatile All-In-One Solution
We understand that simplicity and convenience are paramount when you're out in the freezing cold. That's why we offer all-in-one solutions that combine the LINER, SHELL, and HOOD layers into a single, comprehensive design (HEAT 3 SMART and HEAT 3 SMART PRO). 
These winter work gloves for extreme cold are favored by outdoor winter event staff and snow grooming operators who need warmth, flexibility, and ease of use in one package.