Enhance Your Hunting Experience: High-quality Gloves for Winter Adventures
Say goodbye to cold, uncomfortable hands on your hunting expeditions with our exceptional Hunting Gloves. These top-quality gloves are purposefully designed to elevate your hunting experience during the winter months. Get ready to enjoy superior warmth, functionality, and dexterity that will keep you comfortable and focused throughout your thrilling hunting adventures.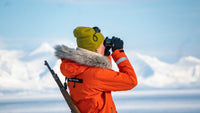 Combat Cold Hands with Exceptional Warmth
When it comes to winter hunting, warm hands are paramount for success and enjoyment. Our Hunting Gloves are meticulously engineered to excel in extreme cold weather conditions, ensuring your hands stay cozy and agile. No matter the temperature, you'll maintain the necessary warmth and dexterity to handle your hunting gear with ease.
Tailored for Hunters
We take pride in developing these gloves in close collaboration with experienced hunters who understand the unique demands of the sport. Through rigorous testing in demanding environments, we've crafted Hunting Gloves that cater to your specific requirements. Count on us to deliver sensitive handling capabilities, extreme warmth, and reliable performance in the field, all tailored to enhance your hunting endeavors.
The Versatile HEAT LAYER SYSTEM
What sets our Hunting Gloves apart is our groundbreaking HEAT LAYER SYSTEM. This innovative 3-layer glove system adapts to the diverse challenges of winter hunting, ensuring optimal comfort and adaptability.
1st Layer - LINER
Our LINER gloves, an integral part of the system, provide exceptional tactility for precise handling of your hunting gear.
Whether you're gripping your trusty hunting rifle or shotgun, adjusting hunting optics, consulting your GPS or compass, or referring to your field guide or hunting maps, our LINER gloves offer optimal control and grip.
2nd Layer - SHELL
The
SHELL
layer is designed to deliver maximum warmth and durability, making it ideal for withstanding the harshest hunting conditions.
Whether you're trekking through snowy terrain or facing biting winds, our gloves provide the necessary protection to keep your hands warm and comfortable.
For enhanced warmth and reliability, don't miss our
SHELL FULL LEATHER
version.
3rd Layer - HOOD
The outermost layer, our
POLAR HOOD
, adds an extra layer of defense against wind and wetness. By wearing the
POLAR HOOD
over your
LINER
gloves, you ensure your hands remain shielded from extreme weather conditions while you pursue your hunting objectives.
The All-in-One Solution: HEAT 3 SMART and HEAT 3 SMART PRO
For hunters who value convenience and practicality, we introduce the HEAT 3 SMART and HEAT 3 SMART PRO models. These gloves feature a permanently sewn-together under glove (LINER) and mitten (SHELL), delivering the perfect combination of warmth and dexterity required for hunting in winter. 
The mitten overcoat (POLAR HOOD) can be worn as the outermost layer, offering enhanced protection against wind, snow, and other harsh weather conditions. It's the ultimate all-in-one solution designed to meet all your hunting needs during winter.
Clever Details Designed for Hunting Enthusiasts
Our Winter Gloves come packed with clever details that enhance functionality and usability for hunters like yourself:
• Hidden Magnets - Thanks to hidden magnets, you can conveniently fold back the mitten flap and thumb, ensuring quick access to your fingers when precision is required while handling your hunting gear.


• Touch-Screen Sensitive Materials - Stay connected while keeping your hands warm and ready for action. Our gloves feature touch-screen sensitive materials, GPS systems, or game cameras without removing your gloves.


• Extra Pocket on the Back of the Hand - Stay organized on the hunt with an additional pocket on the back of the hand. Perfect for storing small hunting equipment or accessories.


• Useful Catch Loops and Carabiners - Seamlessly connect all layers of the gloves together. This ensures that no part of the gloves gets lost or misplaced during hunting or when transitioning between tasks.


• Long-lasting performance - Crafted from high-quality materials carefully selected for their insulation, breathability, and durability, our gloves are built to withstand the demands of hunting in winter, season after season.


• Secure and firm grip - Gain a confident and secure grip on your hunting gear with the silicone print on the palm area of our gloves.