Conquer the Chill: Experience Unmatched Comfort with Extreme Cold Weather Gloves
Cold Hands and Stiff Fingers: a well-known problem for outdoor enthusiasts
We get it. Nothing dampens your spirits like cold hands and stiff fingers when you're out there in the extreme cold. It's a frustrating challenge that outdoor enthusiasts like you face regularly. But fret not! We've got you covered with our incredible range of extreme cold weather gloves designed to tackle this issue head-on.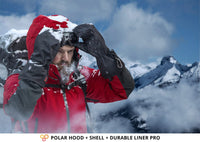 Experience from Professionals
We take inspiration from the professionals who brave the harshest environments. Their expertise and feedback have been invaluable in shaping our gloves to perfection. Whether it's the arctic researchers, polar explorers, mountaineers, or ice climbers, we've listened and learned from them to create the best winter gloves for extreme cold.
From Special Forces to Everyday Extreme Cold Gloves
Our gloves aren't just for the elite; they're for everyone who craves warmth and functionality in extremely cold conditions. Whether you're a ski patrol member, winter sports athlete, ice fisherman, or part of a search and rescue team, our gloves are here to keep your hands cozy and nimble. We even have options for those adventurous souls who love winter camping or exploring the Arctic wilderness.
Warmth with System
When it comes to battling the bone-chilling cold, we believe in a comprehensive approach. That's why we developed our innovative HEAT LAYER SYSTEM - a three-layered glove system that guarantees maximum protection and warmth.
1st Layer - LINER
Think of the LINER gloves as the superhero sidekicks of your outdoor escapades. These gloves offer incredible tactility and sensitivity, ensuring that you have full control over your tools and equipment. No more fumbling around - just precise handling, whether you're an ice climber, ski patrol member, or winter sports athlete.
2nd Layer - SHELL
The SHELL layer is your shield against the icy elements. It's built to withstand the toughest conditions, making it a favorite among mountaineers, polar explorers, and arctic researchers. With our SHELL gloves, you can conquer any peak or traverse any frozen landscape with confidence. We also have the SHELL available in an extremely warm full leather version SHELL FULL LEATHER.

3rd Layer - HOOD
The POLAR HOOD is the ultimate protector, providing an extra layer of defense against the biting cold. For those who venture into the harshest environments, such as ice fishermen, cold-weather survival experts, and Antarctic expedition members, the HOOD ensures that your hands remain warm and cozy, no matter what Mother Nature throws at you.
SMART Combined! Some People Prefer the Practical All-in-One Solution
We know that practicality and convenience are essential, especially when you're out there battling extreme cold. That's why we offer the SMART series (HEAT 3 SMART and HEAT 3 SMART PRO)- gloves that combine the LINER, SHELL, and HOOD into one seamless design. 
These gloves are loved by snowmobile guides, search and rescue teams, and even members of Northern indigenous communities who rely on durable gloves for their everyday activities.
Clever Details That We Use to Design Our Gloves
We pay attention to every little detail to ensure that our gloves exceed your expectations. From
hidden magnets
that make it easy to fold back the mitten flap and thumb, to
touch-screen sensitive materials
that keep you connected to your devices, we've thought of it all.
The
extra pocket on the back of the hand
is perfect for storing small equipment, and the
catch loops and carabiners
keep all layers of the gloves together, so you never lose a part. We even added a
silicone print on the palm
area for a secure and firm grip, because we know how important it is for you to maintain control in challenging conditions.
Do You Prefer to Have Direct Contact with Your Tools and Equipment?
We understand that sometimes you need that direct connection with your gear. That's why we've got you covered with our fingerless gloves and foldable mitten cap. These gloves are perfect for ice climbers, ski patrol members, and winter sports athletes who require precise handling and quick access to their fingers. No more sacrificing warmth for functionality.