Stay Warm and Agile in Extreme Conditions with Our Military Gloves
Allow me to introduce our fantastic Military Gloves, specifically designed to meet the needs of military and law enforcement personnel operating in cold weather conditions. These gloves are the real deal, offering you warmth, functionality, and precision for all your critical missions.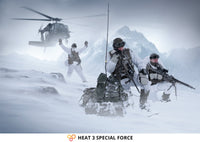 Combat Cold Hands with Military-grade Warmth
When it comes to military operations in winter, keeping your hands warm is absolutely crucial. Our Military Gloves are built to excel in extreme cold weather conditions, ensuring that your hands stay protected and agile throughout all your tasks.
Experience Tailored for Military and Law Enforcement
We're proud to say that these gloves have been developed in collaboration with military and law enforcement professionals. They've undergone rigorous testing in demanding environments, making them the top choice for those who require sensitive handling capabilities and extreme warmth. You can trust their performance and reliability.
HEAT LAYER SYSTEM - Versatility and Adaptability
Now, let's dive into the incredible feature that sets our Military Gloves apart - the HEAT LAYER SYSTEM. It's a cutting-edge 3-layer glove system designed to cater to diverse requirements and individual needs in the field.
1st Layer - LINER
The LINER gloves are a crucial component of the system, providing excellent tactility and allowing you to handle equipment with precision. If you prefer direct contact with your equipment, our HEAT 2 models offer fingerless gloves with a foldable mitten cap.
2nd Layer - SHELL
The SHELL layer ensures maximum warmth and durability. These gloves are specifically designed to withstand the harshest conditions encountered by the military and law enforcement. The SHELL is also available as a specially warm full leather version SHELL FULL LEATHER.
3rd Layer - HOOD
The outermost layer of the HEAT LAYER SYSTEM is the POLAR HOOD, providing additional protection against wind and wetness. With its intelligent design, you can wear it over the LINER gloves, safeguarding your hands against extreme weather conditions. It's a great extra layer of defense.
HEAT 3 SMART and HEAT 3 SMART PRO: The All-in-One Solution
We've got something special for those who value practicality and convenience—the HEAT 3 SMART and HEAT 3 SMART PRO models. These gloves feature a permanently sewn-together under glove (LINER) and mitten (SHELL), providing reliable warmth and dexterity for military and law enforcement personnel. 
Additionally, the mitten overcoat (POLAR HOOD) can be worn as the outermost layer, giving you enhanced protection against wind, snow, and extreme weather conditions. It's an all-in-one solution that covers all your needs.
HEAT 2: Direct Equipment Contact
If you prefer direct contact with your equipment, our HEAT 2 models are perfect for you. These gloves feature a fingerless design, allowing for precise handling of firearms, communication devices, and other essential equipment. The mitten cap can be easily folded back over your fingers when necessary, providing additional warmth and protection. 
They're specifically designed for in-between seasons and slightly sub-zero temperatures. And just like the other models, you can combine them with the MERINO LINER and the POLAR HOOD to adapt to varying weather conditions.
Clever Details Designed for Military and Law Enforcement Personnel
Our Winter Gloves come packed with clever details that enhance functionality and usability for military and law enforcement personnel:
• Hidden magnets

- You'll find hidden magnets that allow you to conveniently fold back the mitten flap and thumb.


• Touch-screen sensitive materials - You can operate touch-sensitive devices, like radios or GPS systems, without removing your gloves.


• Extra pocket on the back of the hand - We've included an extra pocket on the back of the hand, where you can store small equipment or accessories such as spare ammunition or handcuff keys.


•Useful catch loops and carabiners - You can connect all layers of the gloves together using the catch loops and carabiners provided. This ensures that no part of the gloves gets lost or misplaced during critical operations or when transitioning between tasks.


• Extra-long waistband - The gloves are designed with an extra-long waistband to minimize thermal bridges and prevent cold air from entering. This helps maintain optimal warmth for your hands.


• Two Drawstrings for Optimal Fit

 

- Adjust the gloves to your preference, ensuring comfort, and providing an extra layer of protection against wetness and snow.


• Practical Pulling Aid- Loops on the side of the mitten or between the fingers serve as practical pulling aids, making it easier to remove the gloves when necessary.
• 2 drawstrings for optimal fit

- You'll find two drawstrings on the gloves for a secure and adjustable fit. This not only ensures comfort but also provides protection against wetness, snow, and other environmental elements.


• Practical pulling aid - Loops on the side of the mitten or between the fingers make it easier to remove the gloves quickly when necessary. This allows for swift access to equipment or tools.


• Intelligent material use - Our gloves are crafted from high-quality materials, chosen for their optimal characteristics in insulation, breathability, and durability.


•Silicone print on the palm - The gloves feature a silicone print on the palm area, providing a secure and firm grip on firearms, knives, flashlights, batons, or other equipment.